FANCY SEEING YOU HERE, YOU ALT SUMMIT'ER!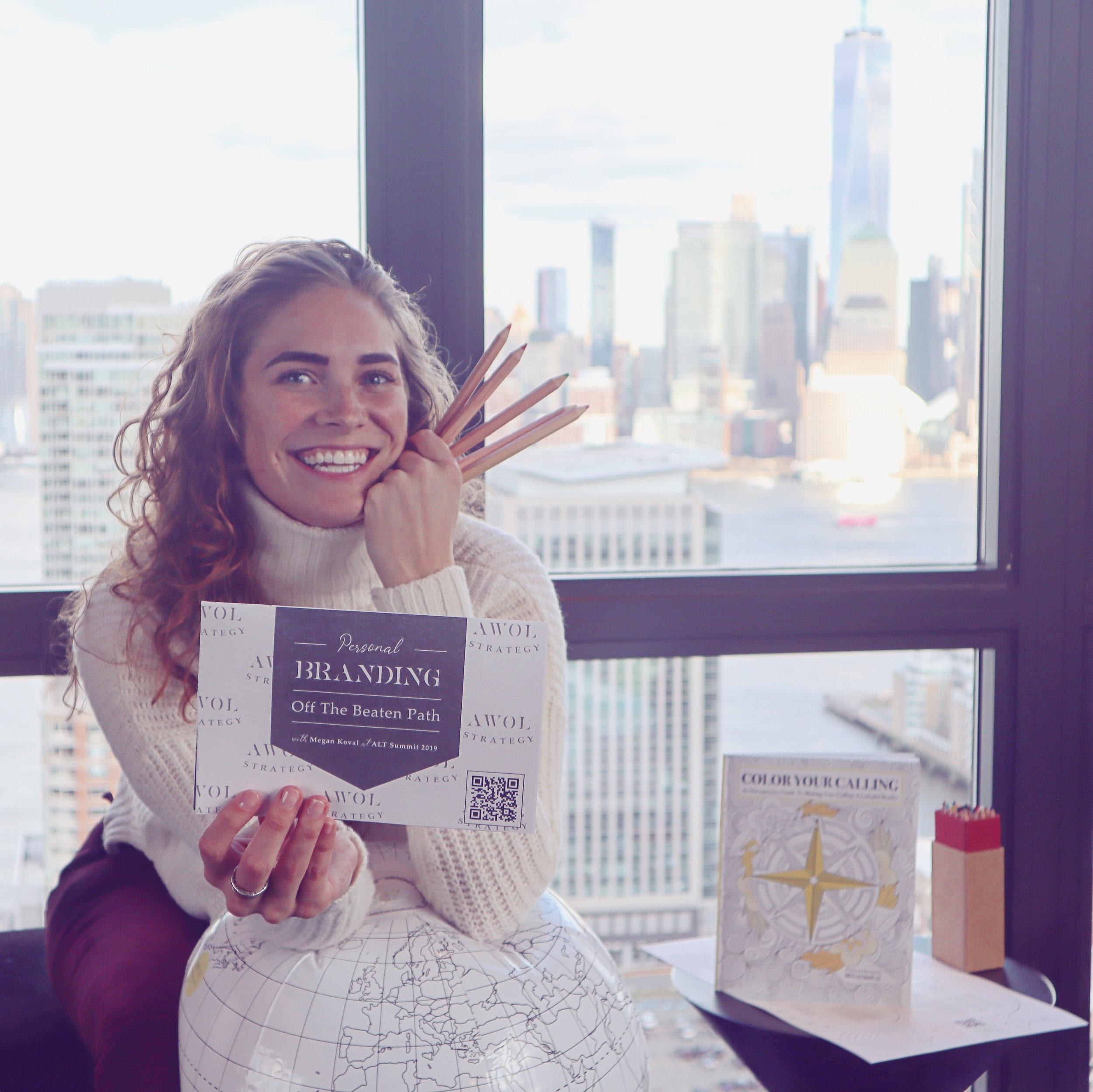 As if 90 minutes would ever be enough time together… now the real fun begins!
I'm giving you my FREE personal branding guide from our session together AND a complimentary pathfinding session. Nice.
I'm Megan Koval, your trusted pathfinder, author and founder of AWOL Strategy.
I call myself a pathfinder because I'm the one who'll help you carve a path you love to own with all your heart. After nearly a decade working in the ad world as a brand and communications strategist in Chicago and New York City, I now help individuals like yourself build a strong brand for your path. Whether it's building your side hustle or starting a full on venture or amplifying your already stellar path — I help you own it with a strong and clear personal brand.
We came. We colored. We celebrated your path.
Now it's time to Color Your Calling and build a prosperous brand.
Order your copy of Color Your Calling on Amazon today!
I GET IT — YOU WANT AN AIM.
You need a path that will help propel your reputation and business opportunities while also feeling in true step with who you are at your core. I know what it's like to juggle multiple ventures, gigs and paths not knowing how to bring it all together under one purpose. Which is where your personal brand comes in, helping you prosper across various paths while feeling a sense of 'oneness'.
Fancy a complimentary chat?
HELPING YOU OWN YOUR PATH IS MY JAM.
From speaking in Paris to London to Canary Islands to the USA, my intention is clear — I want to help you stand out with your greatest point of differentiation: YOU! Owning who you are, what you stand and how to add value to the world because of it is a sure way to success.
Branding that leverages who you are.
As a brand builder, my intention is clear — I want to help you stand out with your greatest point of differentiation: YOU! Owning who you are is irreplaceable. I help you clarify your story, define your aim, find your voice and own it with all your heart.
Content that prospers from your true voice.
Sometimes it's difficult to know how to articulate your brilliance to the world in a way that doesn't sound irritatingly "salesy". I help you find your voice with a clear communications and content framework while ensuring it resonates with the right audience.
Business built to propel your ideal path.
With over seven billion people on this planet, chances are there are quite a few people looking for EXACTLY what you'd love to offer. I help you build the business, side hustle or venture to fulfill a specific need based on who you're best aligned to serve.
Freedom to succeed on your own terms.
The moment we stop pretending to be someone we're not is the moment we can begin embracing our greatest gift: ourselves! I help you become more in tune with your own path and voice in order to open up more opportunities and business.
Meet Hannah, founder of Hannah Louise Online and 'mumpreneur' looking for clarity and purpose in self and business.
With two existing businesses, two children and a new home to renovate — Hannah's drive to help other 'mumpreneurs' while balancing the rest was (and is) awe inspiring.
Focusing on her story allowed us to build a personal brand which serves as the roof over the various pillars and businesses in her life. This clarity caused an awakened advantage to offer packages and courses to fellow 'mums' to help them achieve profitable businesses.
After launching business consultancy packages and courses for 'mumpreneurs', all of the sessions spots filled within the first week of launch. Talk about awe inspiring!
"I've gained a purpose and depth to my business that was always there, just hidden!" — Hannah, Founder of Hannah Louise
Say hi to Dev, a workability expert, accountant and global presenter looking to launch his new consulting practice and brand.
Dev's the kind of person who can make anything fun. As a seasoned accountant, auditor and organizational consultant — I mean anything.
As someone who lives a life of discovery, he was keen to build a business and personal brand to reflect his perspective, leadership philosophy and vision.
Through a full brand intensive model, we dug into his brand today, the brand he wants to be tomorrow in order to begin articulating the capabilities for him to offer in the world. Work included a full functioning website with a refreshed brand, visual identity (including logo) and business packages.
"I feel a refreshed sense of direction to propel my business!" — Dev Ramnarine, Workability Expert
HAVE 60 SECONDS? TAKE MY BRANDING QUIZ!
Click the link below to learn how to take charge of your destined path, unlock your true potential, propel your business, and make a journey out of it!
"NO ONE ELSE IS YOU AND THAT'S YOUR POWER."
Thank you again for your time, attention and creativity at Alt Summit 2019!
To thank you, please enjoy your FREE copy of AWOL Strategy's personal branding treasure map below. For best results, try to print it on 11 x 17 inch paper and fold in quarters.